Nautique Wakeboard & Ski Boat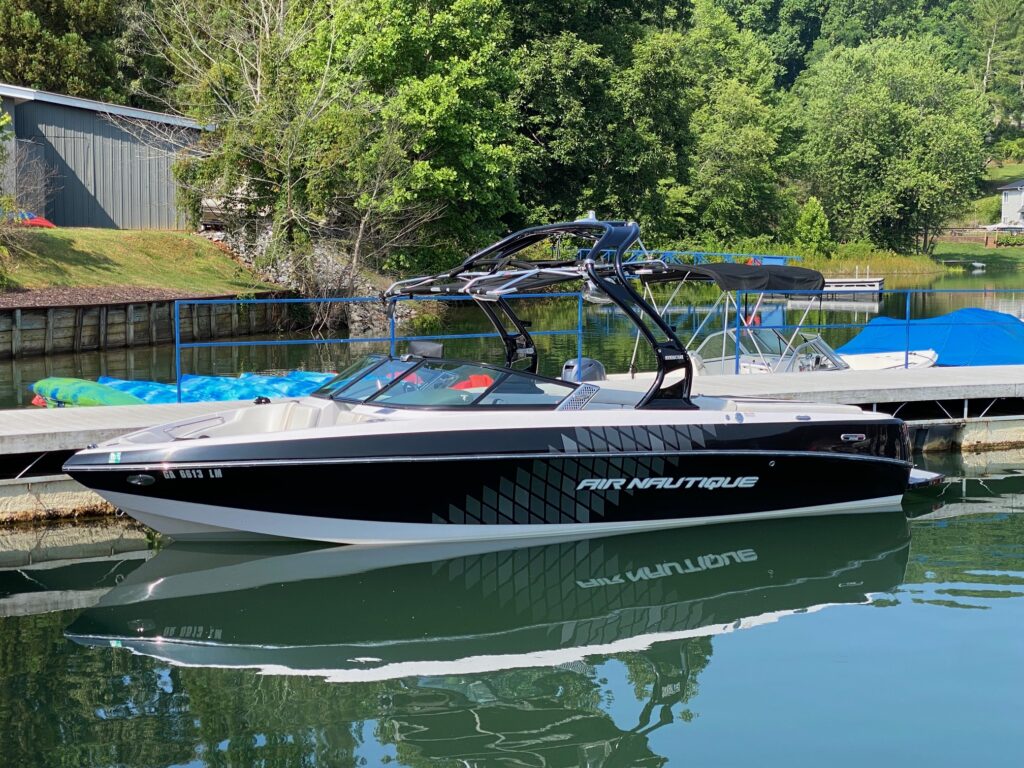 Our Nautique 226 Team Edition Wakeboard Boat Rental is a true inboard V-drive wakeboard boat and ski boat! It measures 22.5′ long with seating for 12 people, so there's plenty of room for the whole family for a day of watersport on Lake Chatuge. Powered by a 350hp V8, this ski boat has plenty of power for wakeboarding, slalom skiing, kneeboarding, or tubing. With higher power, this boat will pop up a skier easily, but it will also consume more fuel than our Chaparral ski boats. Other features include a wakeboard tower with fixed bimini top, premium stereo with Bluetooth and tower speakers, and a full rear swim platform. This Nautique Ski Boat & Wakeboard Boat Rental is a dedicated watersports machine that is also a lot of fun just for cruising. Although this boat is safe for surfing, it does not have surf specific features and abilities like our Malibu boats.
We offer this boat with our Extreme Double Tube, Wakeboard, Kneeboard, Skis, or Wakeskate! Get a FREE Double Tube Rental or Wakeboard Rental when you rent this boat for 3 or more days!
The multi-day rate applies to two or more 8-hour days with approved dock location. If you would like to book a multi-day boat rental that includes a Monday when we're closed, please call us to make your reservation.
Nautique Wakeboard & Ski Boat Rental Rates
Seating up to 12 passengers
Extreme Toys: Double Tube or Wakeboard: $35 per day / 2 Toys: $50 per day
Basic Toys: Skis or Kneeboard: $25 per day / 2 Toys: $35 per day
One Basic & One Extreme: $45 All 4 toys: $70
One Free Extreme Toy Rental with 3+ Days Boat Rental